Quality
Flosteer Engineers Pvt. Ltd is an ISO 9001:2000 company which provides third party inspection also as per clients need.
QUALITY POLICY

We, at FLOSTEER Engineers Pvt. Ltd.
Commit ourselves for manufacturing and supplying products that would give complete satisfaction to customer.

We will strive to achieve growth and leading position in the market by; Supplying consistent quality products to our valued customers.

Complying requirement and continually improve the effectiveness of quality management system.

Creating and environment of teamwork and innovative approach.

K.C. Patel
[Director]
Research And Development
Through continuous efforts in research and development, we could bring our various types of Valves for High Pressure, High Temperature and Hihgly Corrosive Fluids. Import substitution is another achievement of Flosteer Valves. Flsoteer Valves have been successfully substituted for Valves imported from technically advance coutries and proved to be more effiecient for High Corrosive & Critical Service.
Third Party Inspection...
Flosteer has successfully supplied Valves with the following third party inspection agencies. We can offer other inspection agency as per your need.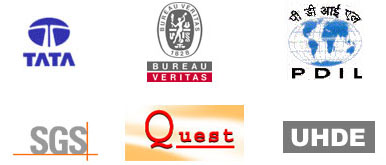 And Many More...