Strainers ("Y" Type)
Flosteer bolted cover "Y" Type strainer has low pressure drop due to higher flow area through screen. Flosteer "Y" Strainer mechanically removing solids from flowing liquids, Air, Steam or gases by means of a perforated or wire mesh straining element. The strainer improves the clearance in the medium, and prolongs the life of valves; protect expensive pumps, meters and other equipments.
Flosteer "Y" strainer has the advantage of being able to be installed in either a horizontal or vertical position. Obviously, in both cases, the screening element must be on the "down side" of the strainer body so the entrapped material can properly collect in it. Flosteer "Y" strainer also available with drain Plug which can be replaced with Ball valve for frequent blow off.
Flosteer "Y" strainers are available in wide compatibility of body material, pressure ranges and screen sizes for various suitable applications.
Flosteer also can offer P.T.F.E. Lined, Rubber Lined, Jacketed & Fabricated strainers on request.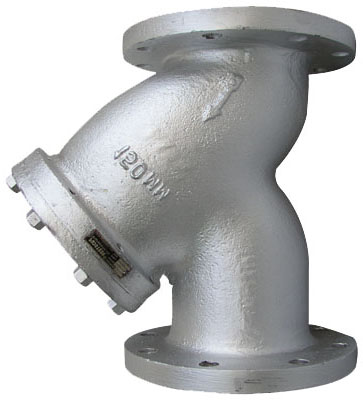 Y-strainer
SPECIFICATIONS:
1) Design: As Per Mfg. Standard
2) Pressure Rating: 150# to 600#
3) Suitable for Medium: Water, Gas, Oil, Steam, Air and other fluids
4) Body material: C.I. WCB, CF8, CF8M, CF3, CF3M and others
5) Screen (Mesh): S.S. 304/316/304L/316L/Brass
6) Bolted Cover Design To Easy Clean or Replace Screen
7) End connection: Flanged / Screwed / Socket Weld / Butt Weld End.
8) Flange Drilling: As Per ANSI B 16.5 / BS 10 Table / PN / DIN / IS Std.
Strainers (Basket / POT Type)
Flosteer Basket [POT] strainers remove damage causing particulate matter from the process media, protecting system components such as flow meters, pumps, mechanical seals and spray nozzles. The particulate matter is captured in the strainer basket. The line is then temporarily shut down and the basket removed for cleaning or replacement.
These strainers reduce downtime for cleaning due to their construction of bolted cover and easy removal of screen.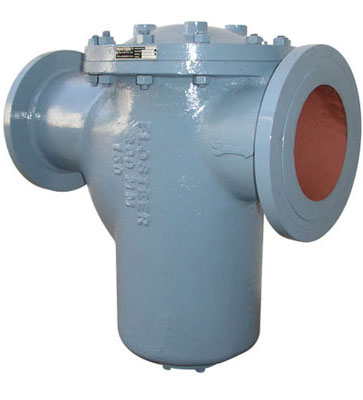 Basket (Pot) Strainer
Other Type of Strainers
a.) Simplex Type Fabricated Strainer
b.) Duplex Type Fabricated Strainer
c.) "T" Type Strainer
d.) Conical Strainer (Inline Strainer)
e.) Tailor Made